A baby is an addition to a growing family, and expecting moms often search for the best way to announce the good news, to her husband, her friends, her parents and even her children. We collected your stories and found some original ideas to announce a pregnancy to your family and give them a nice surprise.
The casserole
How to announce to your man that he is going to be a dad for the first time? By setting a beautiful table for dinner, and concealing the surprise in the dish. Rather than using the pregnancy test, choose a pair of infant socks or a blanket, which you will hide in an empty casserole pan. When he goes to open the dish, the future dad will explode with joy…
The embroidered onesie
Have you just learned about the baby's sex and are looking for a way to tell the future dad? This little skit works if you already have a child. The night before, dress the older sibling in pajamas, a onesie or an embroidered tee-shirt with the message "it's a girl" or "it's a boy." In the early morning, ask your spouse to take care of the first diaper and the first bottle of the day. He will be surprised to discover the sex of the youngest child by changing his eldest.
The surprise balloon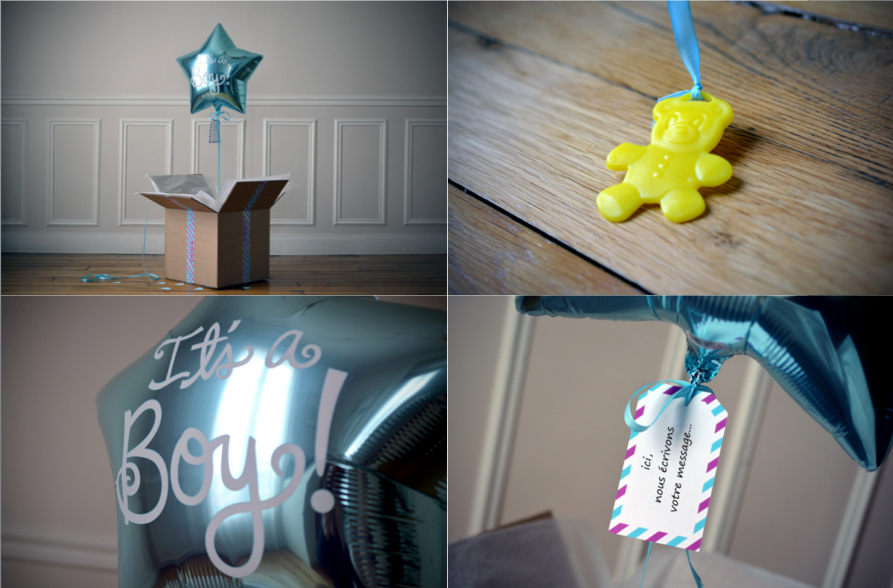 Have his parents and friends hold two large cardboard boxes and ask them to open them at the same time. This filmed experience made a big buzz on Facebook when the expectant parents posted the video. Both boxes contained helium inflated balloons, which were attached to the end of a cord the two ultrasounds of the twins to be born. This is an idea to remember that creates strong emotions every time. On the site popcase.com, you can have your surprise cards delivered to your loved ones. They will remember when this balloon appeared in the middle of their living room to announce the good news for a long time.
M.D.
Translation: Ashley Griffin

Read more on Les Louves
Your pregnancy: tips and a to-do list, month by month
Babymoon: a weekend for two before the arrival of your baby
Hotel de la Villeon, Tournon: A couple's getaway in the vineyards of the Rhone Valley