We would like to talk to you about our discoveries, the pleasant surprises, and the products that appeal to us, all with a subjective outlook. Therefore, we decided to share with you even more spontaneous opinions of our daily experiences, starting with beauty. We start this week with the Tonic Body Treatment Oil, tested and approved by Marion from the beginning of her second pregnancy.
It started in the first weeks of my second pregnancy :  the desire to take care of myself, to pamper my body, and to think about the period after the pregnancy. I had wanted to try Clarins Tonic Body Treatment Oil, an oil that I gave to a lot of new moms in my entourage, who had all told me its praises, but that I hadn't used myself during my first pregnancy.
Clarins Tonic Body Treatment Oil
A pretty, glass bottle and golden liquid : at first glance, the product is already appealing. Its promises? "To prevent stretch marks and loss of firmness during the slimming period and the pregnancy". Better than simply an anti-stretch mark oil, thanks to the properties of the hazelnut oil, pure plant extracts (rosemary, geranium, mint) and aromatic herbs. I had a slight reluctance to the scent at first, very strong and perhaps sickening to a pregnant woman, but to which I am quickly becoming addicted…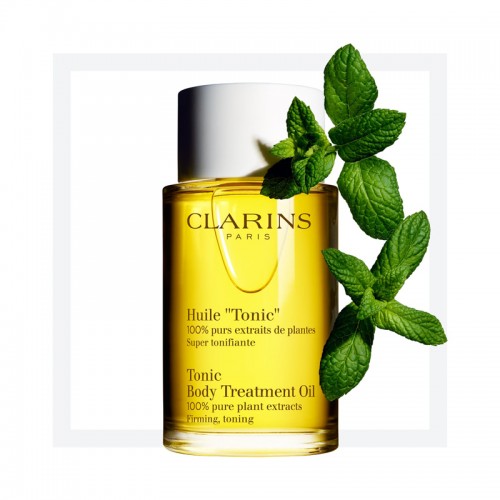 A true beauty ritual in the bathroom
Like all oils, I was a bit skeptical about its use, dreading the sticky and unpleasant result on the skin and under clothing. But a Clarins advisor told me the steps to follow : apply oil onto slightly moist skin, before rinsing the skin with water, if I want. I quickly established a daily routine for 6 months : each morning, at the end of my shower, I generously apply the Tonic Body Treatment Oil onto my moistened skin, massaging legs, lower back, stomach, chest, and neck. Then I quickly rinse while finishing my massage. Result : a thin, silky layer stays on the body, my skin is left feeling hydrated, soft, and smooth.
My opinion
After merely a few days of application, I became truly taken with this oil. It had a real invigorating effect (certainly due to the scent and the massaging effects) and an effectiveness that one can verify at once by touching the skin. After 6 months of pregnancy, I was on my third bottle, with what became a morning ritual. As of now, I haven't felt any sensation on my skin that is irritating or itchy around the abdomen, unlike my first pregnancy. No appearance of stretch marks either, even if, in my opinion, this is due to the fact that I have not yet gotten to the heart of the matter (the last two months of pregnancy or the period after giving birth).
The small negative? The price, 52 € for 100ml. But, in my opinion, largely justified by the effectiveness of the product and the real dimension of pleasure that I found from the beginning of my pregnancy because of it.
You will also like :
Safe Tanning : 5 self-tanners to try during pregnancy
Our secrets for avoiding heavy legs during pregnancy
Traduction : Scout Sabo