You never prepare your nest as carefully as when you're expecting a baby: you decorate his room with love, you rearrange the house, you push the walls and you do a big spring cleaning to welcome him into a soft and healthy environment. Know the pollutants, guard against them, follow the good habits against the pollution of the indoor environment and limit the presence of allergens… Adopt good reflexes to ensure a healthy interior to your family, with the help of Sequoia ecological dry cleaning.
To wait for a child is to learn to keep oneself at best performance during 9 months by avoiding the bad chemicals which are more and more present in our environment and are harmful for both the fetus and the future mother. Once the baby has arrived at home, it is essential to continue to be vigilant to provide a healthy environment. The ONG WECF has launched a program to raise awareness of indoor environmental pollution, called the "Nesting Project": it supports future and young parents to make them aware of the different substances that can be harmful to their health in their environment, and it teaches them how to protect themselves and change their habits…
We have asked Emilie Delbays, environmental health training pedagogical manager at WECF France, to give us her tips easy to apply to ensure a healthy home for our children.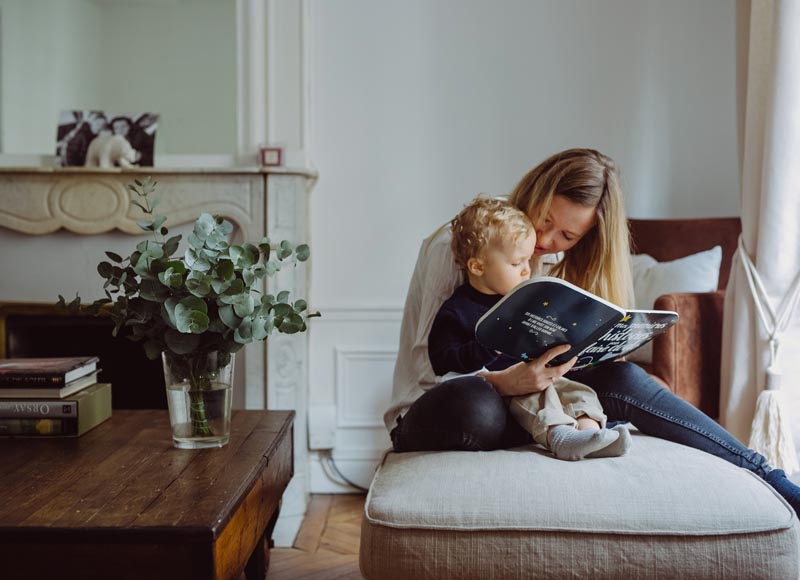 Regularly and efficiently ventilate the house


Every morning and every evening, open the windows for at least ten minutes. "Be particularly vigilant in the bedrooms, including the one where the baby sleeps, who can spend up to 80% of his time there in his first months," said Emilie Delbays. Be sure to ventilate the space. It's ideal to create a flow of air, which allows the air to renew more effectively.
Take off your shoes when you enter the house
Kids walk on all fours, crawl on the ground and do not hesitate to put in their mouth everything that crosses their path. "It is in itself a good thing. This contact with the bacteria allows them to develop their microbiota and to build their immunity, they need it. On the other hand, there are reports that the outdoor residues are linked to chemical pollution and are harmful to health." So, limit the risks by leaving your shoes at the entrance when you come home.
Reduce exposure to dust and toxic products
Some residues, resulting from tobacco smoke, the fire activities of the house (chimney, kitchen…), pollens or chemical pollutants used in household products can become embedded in the dust of the house, which tends to fall to the ground. "Children who are often at ground level are therefore particularly exposed," said Emilie Delbays. So how do you avoid them and reduce their impact? First by vacuuming regularly, and ensuring that the vacuum cleaner is equipped with a HEPA filter (High Efficiency Particulate Air is a high efficiency air particulate filter), which allows to filter the particles as much as possible, even the finest of the dust. Note that a vacuum cleaner often rejects dust, so it is not recommended to use with an asthmatic child in the same room. "Moreover, for the cleaning of the house, we prefer to opt for moist microfiber cloths: it is very effective to avoid redistributing dust in the air."
Change your shopping basket
Separate household products derived from petrochemicals. Limit biocidal products (powerful disinfectants), disinfectant detergents. Avoid fabric softeners and scented products that can be allergenic for the fragile skin of children… "Instead, opt for a trio of white vinegar, bicarbonate and black soap, which is enough to ensure the cleanliness of the entire household, without risk to the quality of the air that our children breathe," advises Emilie Delbays. "There is indeed no reason to regularly disinfect the house, just clean it. There is the nuance."
Bring spring to your home…
"It's always good to clean the home and let it breathe: air the mattresses, wash the quilts, blankets, covers, carpets and curtains, with particular care in choosing the cleaning products used." And to ensure the use of eco-labeled products, with a higher environmental quality, we turn to green dry cleaning, like Sequoia offers: "It helps to ensure the quality of the products used."
#CONTEST
Want to give a great boost to your home? And will you let us do it? With the help of Sequoia, you can organize a big spring cleaning. 24h for a new tune: we take your carpets, curtains, duvets and other blankets for a big cleaning, we install plants in the four corners of your house and fill your fridge with super fresh and organic food. And you? You relax…
To participate, visit the Les Louves Facebook page… The results will be announced on April 20th. Good luck!
Created by: Sequoia x Les Louves
Translation: Ashley Griffin
Photo credit: BellyBalloonPhotography x Les Louves
Read more on Les Louves
Baby's first outings: how to introduce your child to the world around him
15 minutes/day: 4 ideas to spend quality time with your child
Five activities to help your kids discover nature in the city