A subtle blend of refinement and relaxation, luxury and leisure, space and intimacy, the Hotel L'Héritage Le Telfair is a treasure nestled in the South West of Mauritius, less than one hour from the airport and right next to the Frédérica Nature Reserve. With its baby club and kids club, its family suites and its white sand beach as far as the eye can see, the hotel knows how to seduce parents in search of an enchanted getaway.
A hidden and refined hotel in Mauritius
Upon arrival, you'll fall in love with this confidential hotel, a member of the Small Luxury Hotels of the World, whose rooms and suites, in elegant colonial villas, along the Indian Ocean. With its 150 rooms, spread over a plot of over 2500 hectares, the Telfair offers the luxury of a waterfront retreat, in an extremely refined setting, completely redecorated in 2017. Under the large dark wood fans, you'll find the atmosphere and charm of the Mauritian family hotels, available in the various restaurants of the hotel and at the bar Cavendish, with delicious English accents, with its high stools and its retro frescoes on the ceiling. A favorite for Château de Bel Ombre, the restaurant located on the estate in a former colonial mansion: the decor, beautifully restored with French gardens, antique furniture and tapestries, creates a unique setting. Book a babysitter and treat yourself to an evening in this hotel worthy of the Great Gatsby, and enjoy the menu created by Michelin-starred chef David Toutain.
Héritage Le Telfair

Héritage Le Telfair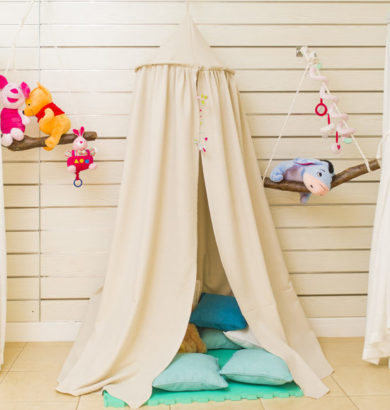 The kids club welcomes babies from 3 months
This is the amenity that truly seduces young parents: the Telfair offers a baby club for children from 3 months to 3 years, and a free kids club for kids 3 years old and up. The kids club employees spend the whole day supervising the children, offering them a wide range of activities: creative workshops, painting, treasure hunting, etc. In the garden reserved for kids, there's a mini pool in the shade, a vegetable garden of which they take great care, a henhouse, a few rabbits and parakeets to feed conscientiously… For babies, an adorable nursery has been arranged, with small cribs equipped with a mosquito net and mats. The team is very caring with children, provides lunches and dinners if you wish, and bends over backwards to offer them a dream vacation. As for rooms, they are all designed to accommodate at least one child, and the hotel has worked with Tartine et Chocolat to design the family suites in the neat decoration, where children are welcomed by the hedgehog emblematic of the Parisian house and adorable amenities.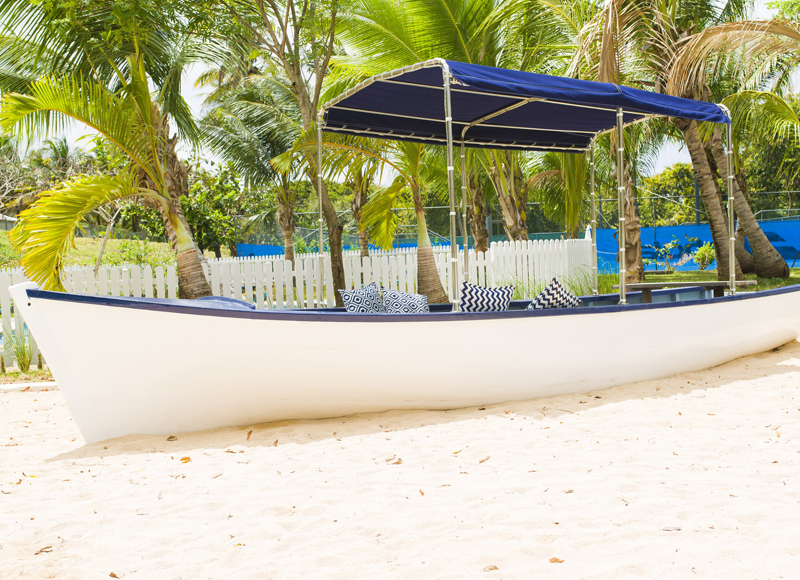 Wellness weeks at Seven Colors Spa
To really relax, we highly recommend a visit to the Seven Colors Spa, headed for two years by Mathieu Gossart, a French osteopath who has set up a complete fitness program, which focuses on the seven chakras of the body and the seven colors of the rainbow. We reassure you, there's no need to be focused on esotericism to enjoy the benefits of this experience: your tailor-made program is created after a one-on-one interview with Mathieu, who organizes your wellness week around care, yoga classes, Pilates or meditation—depending on your needs and desires. You will leave feeling invigorated… The spa also offers its services à la carte, including a special jet-lag massage to enjoy on arrival or a signature massage, inspired by ancient Mauritius techniques. The setting itself—with its white wooden pavilions organized around pretty patios and pools—is a call to relax and let go.
A hotel ideal for…
…families who dream of a luxurious vacation in an intimate setting. At the Telfair, while feeling at home, take advantage of the 5-star service of a full-service resort: 12 restaurants with fine and diversified cuisine, a breakfast that will create precious memories for your children, varied activities (boating, sports…) two pools on the beach…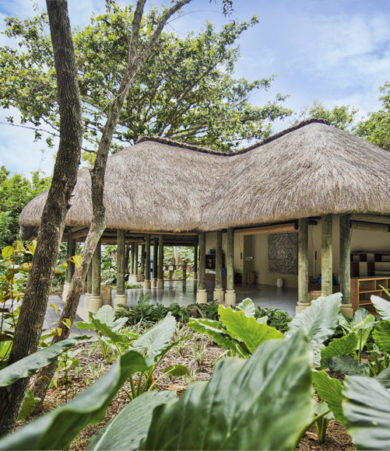 Practical Information

Héritage Le Telfair Golf & Wellness Resort Hotel
B9 Bel Ombre, 61002 – Ile Maurice
www.heritageresorts.mu
Find it on Google Maps
Check list : suites familiales, baby club dès 3 mois, kids club à partir de 3 ans, chaises hautes, équipement bébé dans les chambres (lit bébé, gigoteuse, amenities, babyphone, etc.), baby sitter sur demande, menus enfants, petits pots maison…
Rates & reservations:
Starting at 248 euros per night for a suite with a garden view, 278 euros per night for a suite with a view of the sea.
Reservations on www.heritageresorts.mu
Read more on Les Louves
3 good reasons to pack your bags as a family for Clos des Coustoulins
Weekend of cocooning for lovers or families in Les Étangs de Corot
How to spend quality time with your kids