During the first days home with your newborn, the first moments of care are a precious moment of exchange and discovery. Getting dressed, bathtime, changing diapers… To ensure the serenity of these moments together, we have drawn up the complete list of essentials for your baby's bathroom, with the help of Lillydoo, a new diaper brand without endocrine disruptors.
Taking care of him, offering him the best of the first days and avoid harmful products or products that irritate fragile skin: to ensure a serene return from the hospital, we advise that future moms prepare their bathroom to welcome their baby under the best conditions possible in order to avoid additional stress once their newborn has arrived. That's why we created with Lillydoo, a young brand concerned with the well-being of babies and the quality of its products, an ideal shopping list, with all the essential products for the bathroom of newborns, to buy before the baby arrives.
Essential products for the baby's bathroom
A bottle of oleo-limestone liniment for changing the baby. Opt for the pump bottle version because it's more practical for everyday use.
Large cotton squares from CotoPads, which are more economical and convenient to take care of the baby as these are lint-free.
Compresses: they will be used to clean the baby's eyes, but also for the protection and care of the umbilical cord.
A bottle of drops from BioGaia, probiotic food supplements to relieve colic of the infant.
Bottles of gentle cleansing cream for the body and hair.
Products for umbilical cord care duringthe first weeks: an antiseptic containing chlorinexhydrin and a drying product.
Physiological saline solution: for the washing of the eyes and the nose.
Dolodent, a gingival gel to relieve the pain of the first dental flare.
Several packs of diapers in size 1: we recommend Lillydoo, brand new brand of skin friendly, perfume-free and lotion-free diapers that do not contain substances harmful to the skin of your newborn. We also appreciate the online subscription option that the brand offers: they'll deliver your diapers directly to your home, as often as you choose. The deliveries adapt to the age and the weight of your baby. Did not you expect your baby to grow up so fast? No worries—the brand will exchange extra packages that you have for a larger size.
Lillydoo wipes specially designed for babies' sensitive skin: without perfume, paraben, PEG emulsifier, and 100% biodegradable, these wipes are soft (made from organic olive oil and organic aloe vera pulp) and ultra practical.
Accessories for a baby's vanity
A pair of small scissors
A thermometer with a soft tip
A thermometer for the bathtub
A small, soft brush
A massage brush for gums, to relieve the baby during its first dental breakthroughs
For the return home, Les Louves embellishes your daily life with the complicity of Lillydoo, the diaper brand that does not use endocrine disruptors (nor glyphosate, dioxin, perfume, parabens, phthalates, chlorine and emulsifiers PEG…) Lillydoo offers delivery of diapers directly to you at the frequency that suits your family. The diapers have soft layers that are easy on the skin of newborns, and they liven up the changing table with their pretty prints…
Order your test kit (consisting of 10 layers and 15 sensitive skin wipes, you will pay only 3.90 euros in shipping) today and subscribe on the Lillydoopour website to receive your skin friendly diaper delivery at home…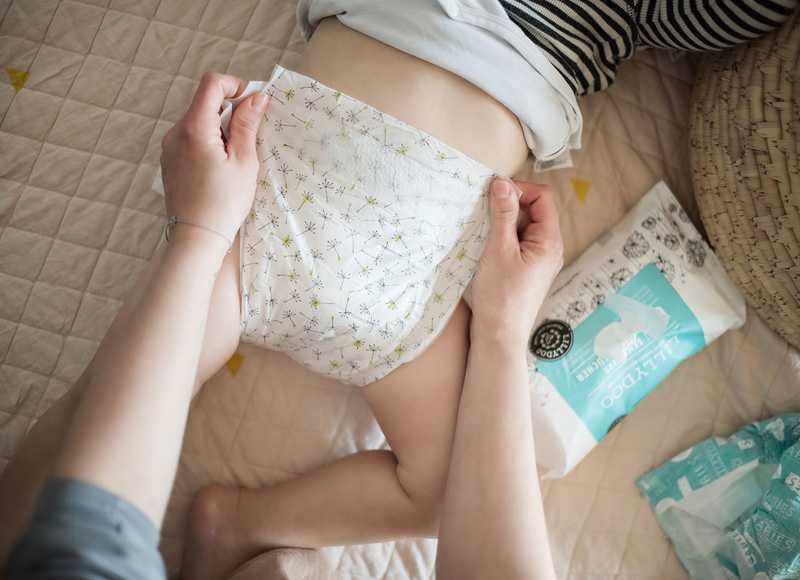 Article created with our partner, Lillydoo.
Translation: Ashley Griffin
Read more on Les Louves
Childbirth: what they don't tell you
The first nights: advice and tips to help your baby sleep