Sunscreen, hat, sunglasses, swimsuit, floaties and little toys: we can never be too equipped for the first outings to the beach with our baby. Before you start packing your suitcase, we have selected for you our favorite accessories for your baby's beach bag.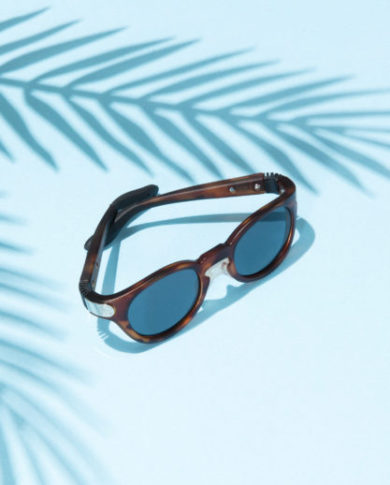 A cute pair of glasses
Definitely slip these into your diaper bag to protect your baby from the slightest ray. For this summer, Claudel is a young French brand that combines style and comfort with a unique, flexible and unbreakable frame, specially designed to rest on the nose and ears of babies (from 1 year). They look and feel great, and they come in irresistible colors. For the little ones (0-12 months), we have tested and adopted the Izipizi's Sun baby model. It's resistant to falls, scratches and other bites… Available in pink, green or pastel yellow, the glasses are delivered with a flexible strap, convenient for when they have a hat or scarf on their little heads too.
A beach tent
Say goodbye to umbrellas, sauna tents and complicated facilities to sleep in the shade. This summer we tried out the Miasunbeach tent, designed by two moms who wanted to keep the whole family protected from the sun. It has 100% cotton canvas that filters 90% of UV rays, 3 positions to adapt to the sun's positions all day and a simple structure easy to assemble. We like its elegant design and its ultra lightweight: folded, the whole item weighs 1.2 kilos and does not take up more space than a bath towel in your beach basket. Once set up, the Miasun tent can create a little more than 3 meters of shade, large enough to shelter a small family and a stroller for nap time, and serve as a play teepee for the whole day…

Anti-UV textiles
Because the water and the sand reflect the rays of the sun, and since it's not so easy to apply new sunscreen on a baby every 20 minutes, we recommend, to keep the peace on the long days of summer, to adopt some anti-UV accessories. Every year, we recommend the Canopea collection of anti-UV and eco-friendly t-shirts and swimwear. Made from a recycled and chemical-free fiber, their very tight mesh filters 95% of UVA and 98% of UVB rays, with a very soft "second skin" effect for the comfort of toddlers. For babies who are already able to crawl around in the sand, use a high-protection hat: the KI ET LA hood, made of UPF 50+ anti-UV cotton, has a wide visor, which also protects the neck and shoulders.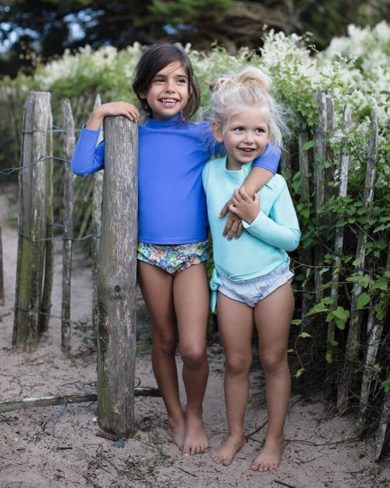 Some useful accessories to slide into the diaper bag
It's impossible to improvise when you go to the beach with a baby. In addition to the list of essentials such as a suitable sunscreen, physiological saline (useful for cleaning the eyes in case of sand), diapers and wipes, it is advisable to pack one or two disposable nappies, practical and more hygienic to change a diaper anywhere (on sale at Amazon or at Lillydoo). Also helpful when you do not have clean water to wash a baby bottle, the set of bottle feeding from Biberon Français: 3 sizes of bottles in one, so you'll always have a clean bottle at hand. This summer, Soledad Bravi designed the funny and tender drawings on the collection of bottles, which were made in France (on sale from July 1st).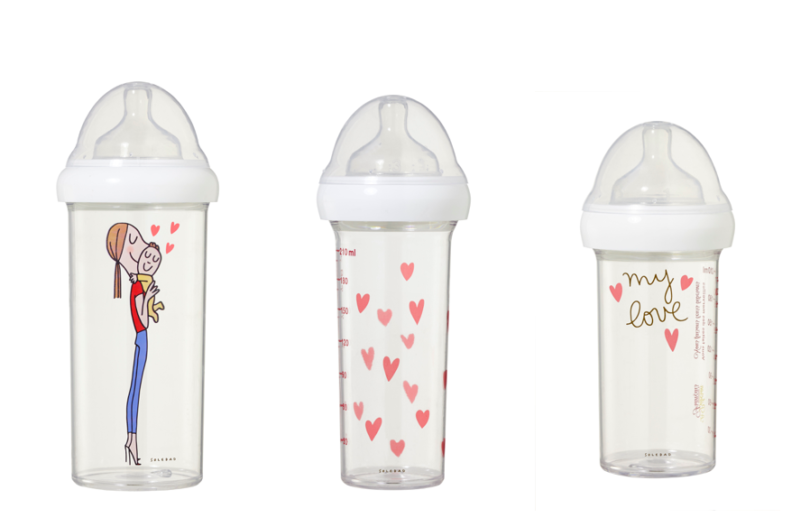 Swimwear, shaws and light cover-ups
An adorable alternative to hats in order to protect our babies from the sun, we love the Annabel Kerncotton-chiffon mini-swaddle. You can tie it like a bandana around the head, or use it like a scarf around the neck if it gets windy on the beach. As for swimsuits and bloomers, the Liberty or Gipsy prints with little ruffles are a must this summer for girls, with some favorites at Bonton, Bonpoint, Lison Paris… They even have the coquetry to match the floaties to the swimsuit, thanks to Cyrillus. For little boys, you'll find the swim shorts signed by Apaches Collections, the linen overalls and retro terry wetsuits from the Petit Gang collection and the English pop sleeveless bodysuits by Sleep No More.