For lovers of fine wines and weekends away, this charming hotel offers not only a chance to discover the surrounding vineyards and their fine wines, but also the town of Tournon and its medieval castle, perched on the banks of the Rhone. A rare location found and recommended by MyMoonSpots for Les Louves.
The decor
Saint-Joseph, Chapoutier, Guigal… The best wines of the Côtes du Rhône are tasted in Tournon, an Ardèche city full of history that deserves to be visited for a weekend, or a stop on a holiday road trip… You are indeed 20 minutes from the TGV station of Valence, and 90km from Lyon, in one of the most beautiful parts of the Rhone Valley.
The location
At the foot of the vineyards of Saint-Joseph and in the center of Tournon, the Hotel de la Villeon is one of the most beautiful mansions of the city, where curiosities of the eighteenth century mix with the more contemporary. The magic enfolds when one discovers the luxurious comfort of the rooms and a suspended garden of 2000 square meters, you can enjoy a spectacular sight on the hills of the Hermitage and the Castle-Museum of Tournon.
MyMoonSpots likes to bring back in its suitcases filled with some bottles of Crozes, Côte-rôtie or Saint-Joseph, and a lot of sweets by Valrhona, which one finds at the city of chocolate of Tain l'Hermitage.
An address from the MyMoonSpots collection to book here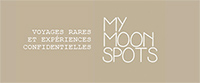 Translation: Ashley Griffin
Read more on Les Louves
Babymoon: a weekend for two before the arrival of your baby
The queen of care for young mothers at Mandarin Oriental spa
3 good reasons to pack your bags as a family for Clos des Coustoulins