A huge kids club, a pool area with three pools specially constructed for children, kid friendly restaurants and cartoons every night: at the Martinhal family hotel of Cascais, the children are kings. A hotel ideal for a family holiday in Portugal with no stress.
3 good reasons to pack your bags for the Martinhal family hotel of Cascais
For their super kid friendly atmosphere. Since 2011, the Portuguese group of Martinhal has been developing high-end hotels and clubs, specially designed for families. The idea is to allow parents to fully enjoy their holidays, while offering their children a unique experience. The hotel in Cascais, which opened in 2016, is no exception to the rule with its giant kids club (700 square meters of games and toys available), its swimming pools completely adapted to children, with anti-slip coating and swimming wings, and its playground that makes all small vacationers think they're in a dream (zip line, giant trampoline, swings …). The employees take care of babies from 6 months and offer a program of activities that changes every day for older children. Don't hesitate to leave your children at the kids club for a day… For children under 3 years old, a baby concierge takes care of everything and will ensure to equip your room the necessary items before your arrival. On-site, a low-cost laundry service is offered for baby clothes.
2016©www.tempusdexposicao.com

2016©www.tempusdexposicao.com

2016©www.tempusdexposicao.com
For its all-inclusive program. For parents who wish to truly relax and think of nothing, this hotel is ideal. In the kitchen, the two restaurants offer a varied and tasty menu for adults, as well as a children's menu, the pool bar offers snacks at any time of the day and bottles are prepared by the chef for babies. As for relaxation, the spa offers a low-cost treatment card in a calm and refined environment, and the indoor swimming pool allows you to fully enjoy yourself even during off-season. As for the rooms, they are equipped with ultra spacious bathrooms, including a bath and a walk-in shower, and a terrace overlooking the gardens, which allows you to relax in the calm of the sun while the children nap.
For the breakfast. A huge and delicious buffet, served everyday on the terrace of the hotel's restaurant. Pancakes, waffles, pasteis de nata, dried fruits and fresh fruits, eggs, bacon, deli meats, cereal, squeezed juice… A small playground has been installed right next to the terrace: children can have fun after they've eaten their crêpes, leaving their parents free to savor the first moments of the day quietly.
A hotel ideal for…
… parents who like all-inclusive programs and club spirit. You enjoy yourself in this hotel with a break in the sun, which delights the children and allows you to recharge your batteries as family.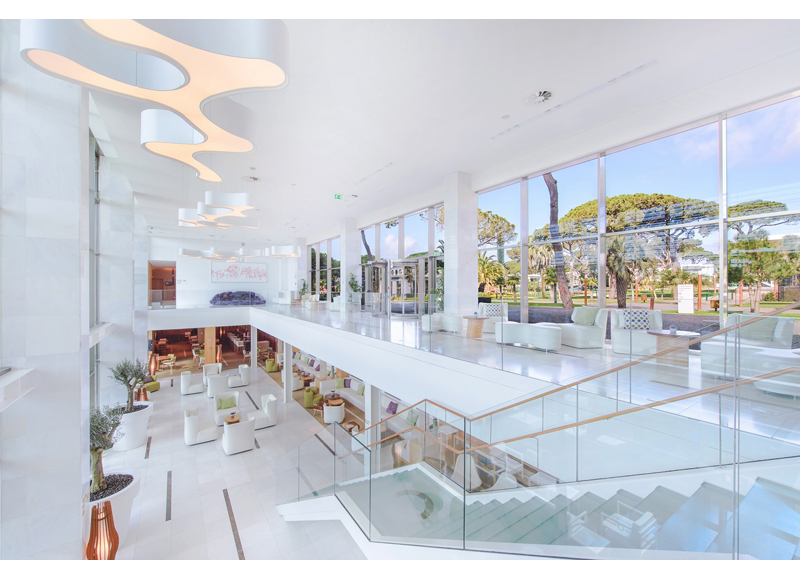 To discover
The Martinhal family hotel is the ideal starting point for excursions to Cascais, a charming seaside town, located just 45 minutes from Lisbon. The hotel offers many activities (visiting museums, swimming with dolphins, horseback riding …), so do not hesitate to ask the concierge to schedule some outings with the children during your stay.

Practical Information
Martinhal Lisbon Cascais Family Resort Hotel
1, do Clube 2
2750-002 Cascais
Portugal
www.martinhal.com
Find it on Google Maps
Checklist :family room, kids club (additional fee for children 6 to 13 months old, free for children over 13 months), kid friendly restaurants, child and baby equipment (bottle, high chair, cot, welcome kit …), baby concierge …
Rates & reservations
Until October 31st, 7-night packages start at 121 euros per night per adult in a double deluxe room (2 adults + 1 child of 2 years maximum) for 7 nights minimum with breakfast and half board.
Reservations on the website www.martinhal.com
Translation: Ashley Griffin
Read more on Les Louves
Martinhal Lisbon Chiado: a hotel with a kids club in the heart of the city
Manoir Dalmore: holiday in Brittany with the family (Finistère)
Summer holiday: should you opt for an exclusive hotel with a kids club?