They have been walking through the parks and streets for about ten years, high strollers perched on their remarkable telescopic feet. This new silhouette is designed by Stokke, the Scandinavian designer who reinforced the parent-child bond over and over again. High chairs, loungers, bathtubs, car seats and strollers are designed to foster the visual connection between parents and their baby—a seductive design for young parents, which I wanted to check out. I had the opportunity to test, for a weekend at the beach, the advantages and small novelties of the flagship stroller of the brand: the Xplory model, redesigned and improved in 2018.
When she doesn't want to be lying down anymore…
With a very enlightened little girl of 5 and a half months, I was the perfect guinea pig for this test. A few weeks ago indeed I had to give up having sleep in her stroller for our walks (on weekends, I love taking long walks, even more now since I can take her with me). I was met with a fit of tears as soon as I placed her in it. So I realized that it was time to move on to phase 2: my daughter wanted a "big girl" stroller, and wanted to be able to sit up to participate more actively in the walk. I needed a stroller that allowed me to both pacify my baby who does not sit still, and to stay in front of her because it was much too early for her to turn around… I confess that with an Xplory, this transition is smooth and fun: I read in her smile the joy of sitting up, watching me and looking around, before dozing off after about ten minutes. The transition to lying down is then very easily without the risk of waking up. It's obvious my daughter finds her new bed very comfortable: back home, there's no end to her nap in sight. I let her finish her nap in her stroller parked in our foyer…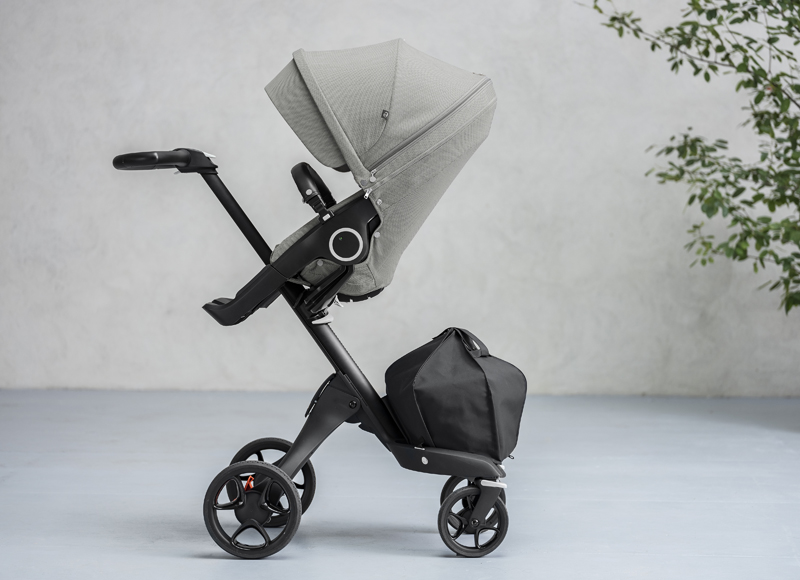 The major and minor advantages of the adjustable seat
When you want to keep a bit of improvisation in the daily routine of a baby, you'll appreciate being able to stall his stroller around a table on the terrace, at a restaurant or at a friends' place, and giving him a bottle while drinking an aperitif without stress. At first, I was pleasantly surprised by the easy handling of the stroller, which slides easily between chairs and tables thanks to its swiveling front wheels. But above all, the height-adjustable seat is a real plus in this case: installed at the same height as us, my daughter has discovered the joys of the high chair in no time. I felt that when she was really sitting with us she was less impatient to get out of her stroller, she did not suffer from being tied up and away from my arms: on the contrary she made smiles to everyone and seemed happy to participate.
The other advantage of the height-adjustable seat is noticed during even the first walks: I can not help but smile at her, talk to her or make funny faces to make her laugh. With this high seat, there's no need to bend your back to catch her eye. The same goes for the dad, who is taller than I am. He appreciates the adjustable handlebars even more. We can not say it enough, sparing our back when we are young parents—it is priceless! I also enjoyed the interaction that was created between my baby and the people we met during a ride. Even in front of me, she sometimes caught the eye of a passer-by, who smiled at her, and got big smiles back. Perhaps she is particularly sociable, but I am sure that the ability of being at eye level of passers-by makes her appreciate being walked all the more.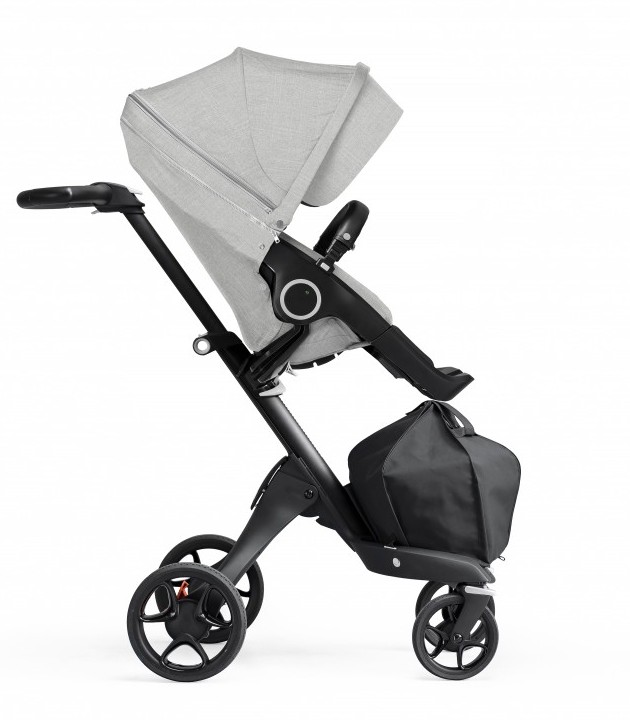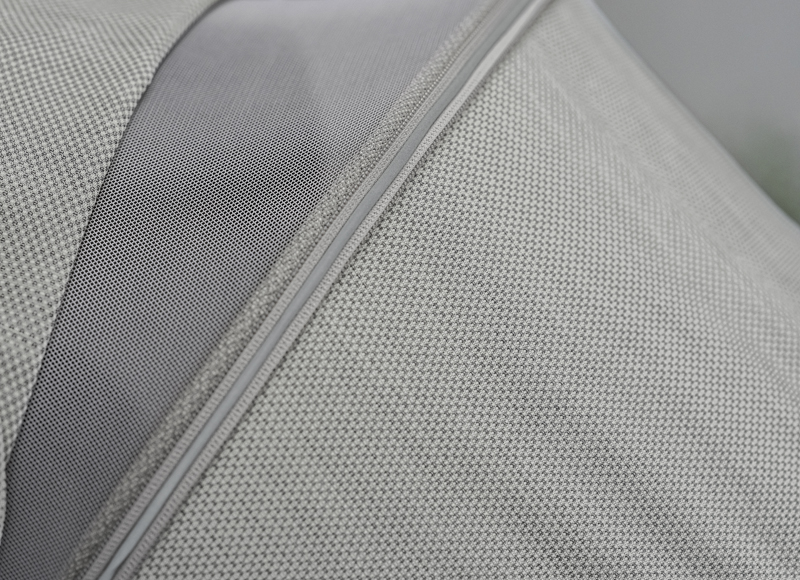 My rating: 9/10
I was seduced by the atypical design of this stroller. Certainly, it can not compete with some ultra light and compact models that can be found on the market, and it occupies a significant amount of space in a car trunk; but that's not what we expected. I enjoyed the comfort it gave my baby, its off-road and smart options like the padded seat for toddlers (5-8 months), or the hood that evolves and adjusts to become sun visor, windbreaker or mosquito net. I only feared before testing it that it would be too heavy and impossible to store in my building. Living on the 6th floor with a very narrow old elevator, you can not roll a stroller into my house. I use a bike room accessible via a staircase of 5 steps… This is where the two-wheel function of the Xplory model is super helpful: the two rear wheels fold to allow up or down without having to remove the baby. This option is also useful on the beach to carry the stroller on dry sand… Finally, I had a crush on and a lot of compliments for the elegant upholstery of the seat in gray brushed textiles, to pair in winter with a matching footmuff.
For more info: www.stokke.com
M. D.
Translation: Ashley Griffin
Created by: Les Louves X Stokke
Read more on Les Louves
The brother-sister connection: preparing for the arrival of a second child
Baby's first outings: how to introduce your child to the world around him
Food diversification: our advice for his first meals from 0 to 1 years