A cross between an all-inclusive club and a luxury hotel, the houses of Katy and Jacques keep the best of both worlds in their six addresses dedicated to family holidays. In their Roman home, a few kilometers from the Italian capital, they offer to their guests a mix of sun, culture and la dolce vita—a stay that spoils the parents as much as the children. Welcome to Borghesiana Romana.
The concept

Are you dreaming of a relaxing vacation where your children spend memorable days at the kids club while you relearn the meaning of the word "nap," but dread the big resorts where you have to wait in line for the buffet? You fantasize about a small charming hotel in the South of France to disconnect for a week, but will don't want to impose the cries of your children on the people by the pool? To answer this complicated equation of desperate parents, the couple Katy and Jacques designed their 6 holiday homes, elegant addresses in France, Italy, Switzerland and Spain that cleverly reconcile the well-being of parents and the blossoming of children, with two slogans: pleasure and absolute freedom.
The decor

Located 20 minutes from Rome and nestled in a green park of 3 hectares, the Borghesiana Romana is a large, charming house of fifty rooms that invites its guests to savor the Roman Dolce Vita by the pool, at the table—with the specialties of a chef who masters local cuisine on the fingertips—and in the streets of the Eternal City, which you are invited to discover with a private guide. In this complex as elegant as it is friendly, everything is thought out so that everyone finds happiness: from tennis to water aerobics, cooking lessons given by chef Enrico to tasting the best wines of the cellar… In the evening, a once the children are in bed, head to the bar, a warm place for guests to enjoy their cocktails and choose their own music, just as you would at home…
La Borghesiana Romana, Les Maisons de Katy et Jacques

La Borghesiana Romana, Les Maisons de Katy et Jacques

La Borghesiana Romana, Les Maisons de Katy et Jacques

La Borghesiana Romana, Les Maisons de Katy et Jacques

La Borghesiana Romana, Les Maisons de Katy et Jacques
For the kids

The greatest strength of Katy and Jacques's vacation homes: better than a kids club, these locations are designed for an ideal family vacation. They welcome children from 0 to 18 years old, with a range of activities offered during your stay. Led by "les enchanteurs"—a team of animators all graduates of BAFA—your children are taken care of all day with activities adapted to their age. To allow adults to eat their meals peacefully, a custom-made buffet is prepared for kids, and games and shows are organized every evening. Football or tennis courses, swimming lessons, theater, crafts, cycling—and don't forget about the visits to Rome in the form of a treasure hunt… The days will seem too short for the little vacationers. For the very little ones, the house is equipped with all the necessary items to accommodate infants, that you will be able to entrust to the baby-enchantors, professionals of early childhood development who are at your disposal from the morning to the evening to pamper and occupy your babies while you recharge…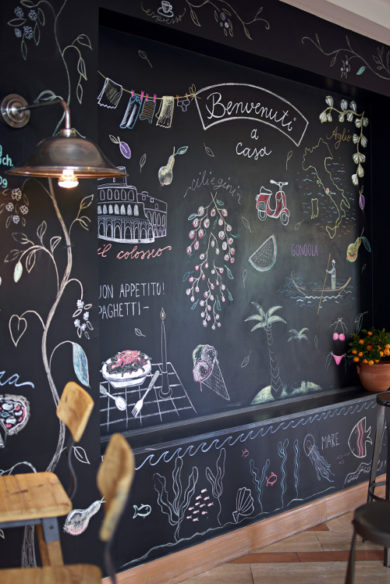 Les Louves loves
This upscale and friendly vacation package that offers total freedom to everyone and that allows both adults and children to relax and enjoy themselves.
Practical information
Les Maisons de Katy et Jacques
La Borghesiana Romana
Via della Campana Murata 120
La Borghesiana, 00132 Rome
Checklist : cot, crib, high chair, bottle warmer, baby monitor available, baby bath, baby bottles (from the chef), formula, diapers, family rooms for 4 people, etc.
Rates & reservations
Open in 2017: from Saturday April 8 to Monday April 17 and from July 23 to August 20.
Starting at 2090 euros per week per adult, 610 euros per week per child older than 4 years, and children under 4 years old are included in the price. All-inclusive rate: full board, activities, supervision of children, bar, etc. Does not include transportation costs (plane, car rental …).
0041 78 922 39 66
mesvacances@les-maisons-de-katy-et-jacques.com
Article created with our partner: Les Maisons de Katy et Jacques.
Translation: Ashley Griffin

Read more on Les Louves
The queen of care for young mothers at Mandarin Oriental spa
Weekend of cocooning for lovers or families in Les Étangs de Corot
3 good reasons to pack your bags as a family for Clos des Coustoulins